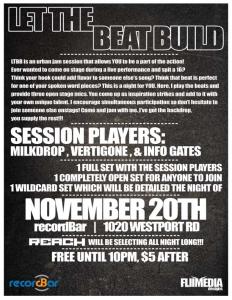 Let The Beat Build
November 20th 2013
Wed @ 10:00pm
Doors: 9:00pm
18+ Ages
---
Buy Tickets

$5
---
Reach brings urban improv and an old-fashioned jam

session to Old Westport's recordBar!

Kansas City, MO | FOR IMMEDIATE RELEASE: The concept of 'freestyling' is central to

Hip Hop. Artists who have the ability to be creative on-the-spot bring a unique quality to the live

stage. The Rap genre shares the same improvisational ambition as the genres that came before

it, namely Jazz. Veteran emcee Reach has created a new cross-genre platform to celebrate

and encourage that spontaneity on the stage. The event, titled "Let the Beat Build", will mine the

basic ideas of a traditional jam session, but the look and feel of the event will be anything but

conventional. LTBB takes place on Wednesday, November 20th

Road). Admission for the evening will be $5 for patrons 21 years of age or older.

Reach will set the tone of the night as its selector, providing the musical backdrop with

instrumentals. The night will comprise two 30-minute sessions where emcees, vocalists, poets, or

musicians are welcome to blend themselves in with the track. The third session will be an improv

set from predetermined session players for the night (Milkdrop, Vertigone, and Info Gates). Three

stage mics will be available for simultaneous participation. The idea is to mash different styles up

to achieve a fresh collaborative work. "Let the Beat Build" will be an opportunity for artists to hone

and sharpen their freestyle skills and to work through new musical ideas.

Reach's ultimately goal for the event is to present a broad representation of Kansas City's

talent and create a breaking ground for new faces in the music scene. The hope is that LTBB

could become the Midwest version of The Roots' "Black Lily." That seminal showcase, held at

NYC's Wetlands Preserve, was an integral part of the development of artists like: Jill Scott, Macy

Gray, Erykah Badu, Jazzyfatnastees, and Jaguar Wright (among others). Kansas City is no

shorter on talent than that progressive Philadelphia scene was a decade ago. Time will tell if they

can achieve similar results.