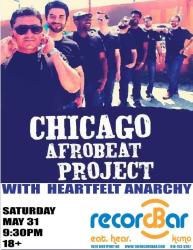 Chicago Afrobeat Project * Heartfelt Anarchy
Time: 10:00pm Day: Saturday Doors: 9:30pm Ages: 18+ Ages Price: $10
This Event Has Ended
As leaders of the non-traditional interpretation of afrobeat, Chicago Afrobeat Project marks 2013 with the official release of "Nyash Up!" the band's fourth album and the best sounding release in its 10-year history. This latest work shows the group defining and redefining their signature version of afrobeat and stretches into new territories by incorporating elements of hip-hop, orchestra-like musical arrangement, and stylistic explorations of rock, jazz and funk.
Afrobeat has succeeded in establishing itself as a wide reaching genre with groups all over the world performing their take on the music first pioneered by Fela Kuti. The success of the Broadway musical, Fela! (and its recent take to the road) has made afrobeat a widely-known sound. Elements of the music are pushing their way further into more diverse and mainstream outlets with a widening array of successful artists such as The Roots, Janelle Monae, Vampire Weekend and drawing influence from the sound.
Chicago Afrobeat Project embarked as one of the first nationally touring American bands to take the sound to the masses. Over the years the band has mastered a sound that successfully weaves the uniqueness of the Chicago music scene with a distinct western-influenced Nigerian style of music. Last year the group performed with Seun Kuti (son of the late Fela Kuti) and featured Sahr (the original actor portraying Fela in the Broadway musical) as a part of the official Fela! musical kick off party in Chicago. In the past with artists the group has performed with notables such as Bill Kreutzman of the Grateful Dead, Jeff Parker of Tortoise, Paul Wertico, Steve Kimmock, Sugar Blue, Howard Levy, and many others.
In late summer 2013 the group plans to collaborate with master drummer Tony Allen.
Chicago Afrobeat Project channels this immense momentum to every performance. The band's reputation as delivering a stellar live performance translates to group's new "Nyash Up!" album as well, with critics clamoring that it's the groups best studio record to date.
Showtimes
10:00 pm
Heartfelt Anarchy
11:00 pm
Chicago Afrobeat Projects
Heartfelt Anarchy

Deep in the aquatic chasm of the other-world and beneath the mist flooded caverns there lies a consistently building uproar. Slamming into the hallowed walls creating a deafening shudder is a distinctly piercing voice and the pounding of drum pads from a silent scientist. This two pronged band carries both a rebellious torch engulfed in the flame of anarchy, and a single flag waved in the spirit of what is heartfelt into each of their high energy live performances.

The Kansas City duo of Producer D/Will and Emcee Les Izmore, make up what is Heartfelt Anarchy. Each with a different role in their musical invocation; Izmore is the boisterous front man showering the well crafted sounds that D/Will fuses together seamlessly. The most intriguing element of their performances; is that Izmore and D/Will play off each other flawlessly even as D/Will plays the instrumental selections off the cusp as Izmore fires away at the crowd.

With their self titled debut album soon to be released into the universe, Heartfelt Anarchy, will have a hand in the proverbial pot desperately needing to be vigorously stirred. With content thick in empowering words for artistic, social, and political representations of all things from the Middle Of The Map there is a movement that will soon follow behind these two musicians. In true anarchy there is always the need of one figurehead leader, in this case we, the people, have double the inspiration to partner in the march forward. 

Aggresive Audio Adventure
D/WILL & Les Izmore & ______ 
= 
Heartfelt Anarchy
https://soundcloud.com/heartfeltanarchy
https://www.facebook.com/groups/423743394341475/