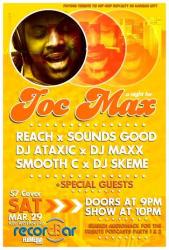 A Night For Joc Maxx
Reach * Sounds Good * DJ Ataxic * DJ Maxx * Smooth C * DJ Skeme
Time: 10:00pm Day: Saturday Doors: 9:30pm Ages: 21+ Ages Price: $7
This Event Has Ended
The local Hip Hop community honors and pays tribute to one of its own in a one night Westport affair!
Joc Max is one of the most renowned members of Kansas City's Hip Hop scene. With over 20 years of experience as an emcee, producer, and DJ, he is regarded as one of the finest products ever to have come out of this market. His influence over the KC rap acts following in his footsteps is well stated. One such person touched by his career legacy is fellow emcee and producer Reach. His homage to Joc Max began as a two-part podcast tribute (currently posted to the Audiomack.com website). 
On Saturday, March 29th a Hip Hop honors show for the community to show Joc their appreciation. The show will take place at the recordBar in Westport (1020 Westport Road). The show will begin promptly at 10pm. Featured acts will include: Reach, Sounds Good, DJ Ataxic, DJ Skeme, DJ Maxx, and Smooth C (among others). Special guests are also expected to be in the house for the evening's festivities. Patrons aged 21 years or older are being asked to pay the $7 admission price. 
Reach will end his first quarter homage by hosting Joc Max is a former member of iconic Kansas City rap group Basement Khemist. His work with the group is revered across the country. Through his other travels, he's become well known for his production work. Joc Max has produced for: Polyrhythm Addicts, The Jigmastas, J-Live, De La Soul, Grap Luva, Miles Bonny, Reggie B and a host of other artists. These days he's a steady contributor to Kansas City's nightlife scene as a regular DJ for various Midtown venues.
Showtimes
10:00 am
A Night For Joc Maxx