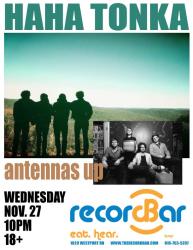 Ha Ha Tonka * Antennas Up
Time: 10:30pm Day: Wednesday Doors: 9:30pm Ages: 18+ Ages
This Event Has Ended
Antennas Up

Are you ready for "The Awkward Phase?"

-Produced by The Ryantist (co-producer and engineer - Ha Ha Tonka 'Death Of A Decade', Antennas Up 'Antennas Up')
-Mixed by Mike Cresswell (mixing engineer - Lyrics Borne, Blackalicious, General Elektriks, Honeycut)
-Mastered by Bob Power (engineer and producer - Common, Tribe Called Quest, The Roots, Citizen Cope)

RIYL: Phoenix, OK Go, Elvis Costello

Antennas Up formed in Kansas City in 2008. Following the addition of a new lead singer and an overwhelmingly positive response from the press and CMJ with the release of their first album in 2009, the band took to a cabin in the Maine woods for 30 days of isolation and songwriting to hone in their voice for a new album in the Summer of 2010.

The band performed an official showcase at South By Southwest 2010, and at CMJ in 2012, has performed at over 30 Universities and toured with the likes of Girl Talk, Electric Six, Flogging Molly, Matt & Kim, Ha Ha Tonka, Via Audio, The Constellations and Company Of Thieves. 

Over 3,000 copies of their debut album have been independently sold and music from the album has been featured in the best-selling iPhone music app 'Tap Tap Revenge 3', ads for the Buckle clothing line and in the independent film 'Falling Overnight.' Their 'Spaceship' music videos by Keep The Heat reached over 100,000 views on YouTube.com and in 2010 the band was selected by the Boston Phoenix as the 'Best New Band In Missouri' in their annual '50 Band 50 States' edition.

Antennas Up currently endorses and partners with:
Sennheiser
Loudtech (Ampeg, Mackie, EAW)
C&C Drums
Istanbul Agop Cymbals

"The Awkward Phase" spent over 10 weeks on CMJ's Top #200 List, peaking at #88.
Lead Vocals/Bass:
Kyle Akers

Guitar/Vocals:
Bo McCall

Drums/Vocals:
The Ryantist

Guitar/Keys/Vocals:
Jon Ulasien
Ha Ha Tonka

Roaring out of the Ozarks with a bottle in one hand and a bible in the other, Ha Ha Tonka mix sanctified four-part
harmonies and blistering rock, carving out songs that evoke the dichotomies that define their home. Their dark view
of the realities of socio-economic hardship, backwoods prejudices and drug abuse is leavened by wry humor and a
deep appreciation for regional storytelling traditions. Coming straight out of Springfield, MO., Ha Ha Tonka
specialize in disarming and effortless anthems that owe as much to high and lonesome Ozarks mountain music as
chugging college rock.
Ha Ha Tonka? What the hell could that name possibly mean? It's a nod to the boys' Ozark pride. It's the name of a
state park in southwestern Missouri, full of natural bridges, sandstone cliffs, caves and a castle. That's right, a
castle. Some crackpot rich guy built himself a Scottish style castle around 1900. It burned down, but the ruins are
still an attraction. Thus, Ha Ha Tonka want you all to know there is more to their home stomping grounds than
Branson, walnut bowl outlet stores and Jesse James' hideout.
The band released its Bloodshot debut, Buckle in the Bible Belt, to much acclaim in 2007, gaining praise from
glossies like PASTE and Spin, and taste-making radio stations like KEXP. At years end, Popmatters Magazine
named Buckle in the Bible Belt one of the best albums of 2007 (In fact, Buckle was ranked #15 for the year, pulling
ahead of those lauded indie rockers, Spoon. Ha Ha Tonka was also a featured performer at the 2008 Lollapalooza
and Sundance Film festivals, and toured the US with Someone Still Loves You Boris Yeltsin, The Meat Puppets
and Old 97's.
In June of 2009, Ha Ha Tonka release the much-anticipated follow-up record, Novel Sounds of the Nouveau South.
The new album quickly garnered amazing press and radio attention. The band released three singles, "Walking on
the Devil's Backbone" and "Hold Your Feet to The Fire" and "Close Every Valve to Your Bleeding Heart". The new
album is available on iTunes, Amazon and your favorite local indie CD retailer. The band tours the US constantly
and will be heading out on a headline tour for most of spring 2010 as well as attending the SXSW Music Festival,
several dates with Cross Canadian Ragweed and stops at multiple colleges along the way. Tour dates will be
posted on all of the bands websites.
www.hahatonkamusic.com
www.myspace.com/hahatonka
"Novel Sounds is violent, literate, unapologetic Southern rock. With its angelic organ and snarling guitars, "The
Outpouring" conjures the Allmans, "Hold My Feet to the Fire" drops gospel harmonies over a boogie-woogie
backbeat, and the fingerpicked "Close Every Valve to Your Bleeding Heart" builds from tender to raging without a
false note."
-David Peisner, SPIN (June 2009)
"(Novel Sounds) Occupies the sweet spot between country and indie, writing ornery songs with big hooks. Listen if
you want your alt country to be heavy on the alt."
-J. Edward Keyes, RollingStone.com (May 2009)
"...in crafting a more challenging album—a more mature album—Ha Ha Tonka have, against the odds, crafted a
much better album, too. Novel sounds, indeed."
-PopMatters (June 2009)
"With feet to the fire and one blind eye, they divine rough, chunky truths on their sophomore album, Novel Songs of
the Nouveau South, letting churchy harmonies and bad boy rock attitude commingle around the holy water they've
collected."
-Jam Base
"Ha Ha Tonka perfects power-chill in its second installment, Novel Songs of the Nouveau South...It's indie rock
from the heartland; the spirit of the back-country with a peppy snare and some serious guitar."
-Vox Magazine
"These Missouri natives have a natural way with a pop hook and instinctive feeling for myriad forms of Southern
music...Ha Ha Tonka is truly one of the best young bands in America."
-Sound Affects
"What sets the band apart is the fact that you just don't care how familiar it may all ultimately sound, as just about
every track on the group's new Novel Songs of the Nouveau South hits it out of the park"
-Time Out Chicagotraditions. -from the bands website